Check your inbox in 2 minutes for You're FREE Fertility Womb Cleanse Shopping List PDF!
But first... Join my Fertility Cleanse Challenge. Only $97 (EARLY BIRD Special)!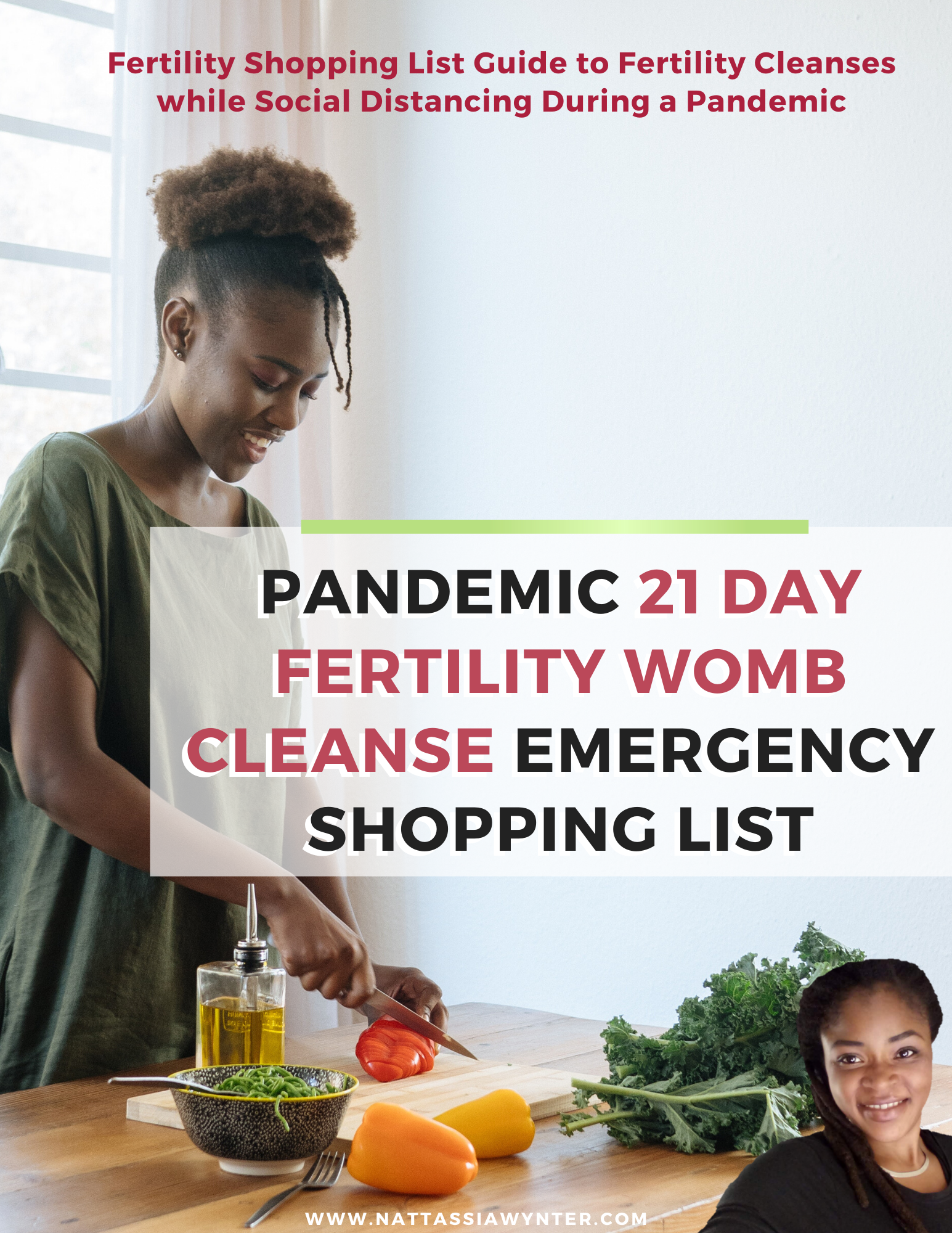 Hey Sis. Are you wanting to enhance your fertility naturally but don't what to do during the coronavirus Pandemic?
Join my Live 5 Day Fertility Womb Cleanse Challenge and prepare your womb for the natural cleanse your body will be going through during quarantine.
Over the next 21 days your hormonal balance may be thrown off due to the changes in your regular routine. If you do nothing you're transition may look like a lot of withdrawal symptoms.
If you're are wanting to conceive or get rid of fibroids, now is the perfect opportunity to support your womb on the shift you need to increase your chances.
Space is limited time, in this Fertility Womb Cleanse Challenge.
Join the Early Bird waitlist now for only $97.
The 5 DAY FERTILITY WOMB CLEANSE CHALLENGE may be for you if you experience any of the following:
Poor circulation
fatigue and low energy
Irregular menstrual cycles
Long, heavy, painful periods
Excessive cramping
Constipation
Short luteal phase
Missing ovulation
Poor libido, no sexual desire
WHO IS THIS FOR?
If you are naturally trying to increase your chances of conception, egg health…
If you are struggling with fibroids, pcos, endometriosis, etc.,…
If you no longer have access to synthetic hormones such as estrogen based birth control, progesterone creams…
If your IUI/ IVF appointments have been canceled due to the Coronavirus self Quarantine..
THESE ARE NOT JUST A REGULAR FERTILITY CLEANSE
GUIDANCE I will also off any guidance on how to make the best of increasing your fertility during these unpresidented times. As a natural fertility coach living off the grid for many years, I can answer questions that you may have unique to what is now a new normal for you.
SUPPORT I will be available to help you emotionally and answer any questions you have before and during the Challenge for the entire 5 days via email and live during the Challenge.
ACCOUNTABILITY Get the motivation you need to stay healthy, on track and positive during self quarantine while you increase your chances of conception naturally.
"The ovarian cyst I had on my right ovary (which was the size of a gum ball) is completely gone. Got an ultrasound last week. Thank you queen for giving me tips."
This is unbelievable. After using Testimonial Generator my business skyrocketed!


Mick A.